products
MACHINERIES
Blister Packing Machine

Hangzhou Zhongyi Automation Equipment Co., Ltd. is a high-tech enterprise specialized in developing, producing Packaging Machinery and Automation Equipment of medical machinery for production purpose. In the competitive market environment, company pays more attention to technological progress and personnel training, constantly incorporate international advanced technology, to continuously improve product quality and performance. Company has obtained the authentication of ISO 9001 Quality Management System, with good corporate reputation and product quality, and win the trust of its customers.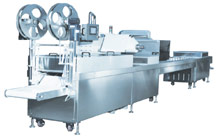 The company employs around 40 people, including more than 40% of science and technology personnel, and has developed a successful new product projects a number of about 20, such as XB series Blister packing machine, BRY series Flexographic printing machine, QSL series Automatic syringe loader and other related automation equipments for medical devices and dressings. XB 40B blister packing machine has been widely used in medical equipment, medical dressings, food packaging and other industries, its technical performance and product quality packaging fully comply with international standards and accord with the "CE" certificate required by the European Community.
In stress, while providing quality products to customers, they pay more attention to providing satisfactory services to customers, also timely, efficient and satisfactory after-sales service really wins customers.
for more information please visit