products
COMPONENTS & RAW MATERIALS
Easydrop/Eurodrop® Flow Regulator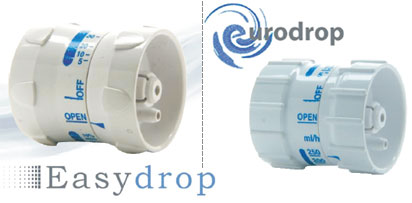 Applications
Easydrop/Eurodrop is a single-use disposable flow regulator which allows highly accurate control of flow rate with IV solutions. It is a low-cost alternative to highly expensive IV pump systems (with special IV sets).
Easydrop/Eurodrop is easy to use with gravity IV sets and requires "two hands" safety operation for any adjustment.
The Easydrop/Eurodrop operating principle is the "triple labyrinth," the GVS patented technology that ensures a very accurate flow rate and high stability in delivery throughout the entire infusion session.
No electrical power is required. Easydrop/Eurodrop has a very light weight and modern look.
These attributes also make it ideal for home infusion.
Easydrop/Eurodrop can be used in a standard IV line or provided in an extension set.
Specifications
Biosafety
Materials comply with USP class VI-121°C test and ISO 10993
Dimensions
Diameter x Height: 32.00 x 34.20mm
Weight: 9.00g
Operating range
Inlet/Outlet connectors
Standard IV tubing connectors (Tube 2.7 x 3.5 or 3.0 x 4.1mm �Please ask for drawing)


Materials of construction
Housing: White ABS (also available in other colours or materials)
Gasket: SEBS (also available in other materials)
Max operating pressure
0.5 bar (7psi) is static condition, gravity set


Max storage and operating temperature
40°C (104°F) indoor operation
Calibrated scale
Easydrop/Eurodrop is available in single and double scales.
Easydrop/Eurodrop single scale has a general purpose scale that can be used for any kind of solution.
Easydrop/Eurodrop double scale has one scale for liquid lower than 10% density (light solutions) and a second scale for liquid with higher density (40%).
Flow rate tolerance
range 5-15 ml/h not defined
range 20ml/h tolerance on flow rate -10 / + 50%
range 21-40ml/h tolerance on flow rate -10 / + 30%
range 41-250ml/h tolerance on flow rate -10 / + 20%
Stability of flow rate
10% flow rate fluctuation during 24 hours of infusion (tested with NaCl, 0.9% solution from glass bottles).
Pyrogenicity
<0.25 EU/ml using the LAL test method
Sterilization Compatibility
Suitable for EtO (44°C / 111 F max.) and gamma (25kGy). Higher temperature can cause a reduction° in performance.
*NOTE: Easydrop/Eurodrop scales have been calibrated to GVS standard test conditions
for more information please visit